Crest Ultrasonic Firearms Cleaner & Lubrication (F1436HT)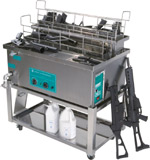 One of our prized equipment possessions is the Crest Ultrasonic Firearms Cleaner and Lubrication System F1436HT

Military Grade

Uses environmentally friendly cleaning agents

Ultrasonic technology cleans your firearm to a factory-new level of cleanliness

Every gun, whether new or used, is cleaned by this method prior to prepping, sandblasting and applying DuraCoat® and/or Hydrographics

Firearms already finished have been back to the shop and cleaned/lubricated and no issues whatsoever with finishes

Takes the tedious task of hand cleaning down to the science of letting the soundwaves do the work.

Firearm is field stripped, put in ultrasonic cleaner, air-offed, put in ultrasonic lubrication tank for deep oil penetration. Automatics and machine guns sparkle!

Wood stocks and optics are removed prior to cleaning in the Crest machine

Reasonable rates and discounts for multiple cleanings done at the same time as machine can handle several handguns and two long guns in one run.

Avoid the hassle of deep cleaning your firearm and make an appointment to watch this do its magic

Wish a video or picture could show you the results but just can't capture it so you'll have to see it to believe it!