Home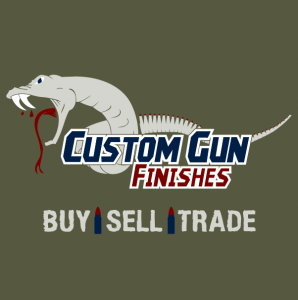 Custom Gun Finishes LLC provides gun refinishing, gunsmithing, and repair services to competitive and recreational shooting enthusiasts, law enforcement officers and, of course, hunters in Pennsylvania and the entire United States.  We also opened a

retail firearms store in neighboring community of Minersville, Pennsylvania

, for your shopping convenience (see contact/hours page for info).  We carry ammunition, firearms, accessories as well as buy/sell. Licensed in Class III too.

Troy Dando, Owner and President of Custom Gun Finishes, is a Certified Finisher and Authorized Dealer of DuraCoat® products. He is also a certified Glock® Armorer and TWN Industries' Master Decorator for application of water transfer printing.
The top-selling and popular hydrographics (camo dipping) with patterns found at www.watertransferprinting.com are the latest finishes we offer through our certification from TWN Industries. Again, finishes are not limited to rifles and handguns; gear and accessories can also be finished. Our services don't stop there, as we offer hot bluing, Parkerizing, and custom triggers.  We can do transfers and buy/sell.

DuraCoat® is a series of industrial specialty coatings applied to firearms to provide a durable, impervious finish which both protects the firearm as well as provides a distinctive color and/or pattern of your choosing. DuraCoat comes in nearly 200 finishes, and the finish can be flat, tactical, semi-gloss, and whatever you like. DuraCoat even has metallic, pearl, and velvet topcoats for those looking for more flashy finishes.
Proud to now offer Cerakote Coating to our list of services. Great gallery of ideas and colors.

<
user
>
668A3DBA4E7D08A9C84AB519D4406DAD
</
user
>