Website – Hiccup but we are back up!
Think we finally fixed the website issue and bad link.  However, please let us know if you receive an error code & we will investigate further.
With that said, time for Custom Gun Finishes to give away something for our dedicated customers.  Anyone who stops at store, fills out slip with name, phone # and email is entered now through November 30th.  No purchase necessary but two entries if your purchase is $50 or more.
Rifle season is right around the corner, look forward to having you do business with us. Happy to quote and order in or make your selection from in-stock.  If you cannot make it to store, please email sales@customgunfinishes.com & we will respond ASAP.  Should you choose to buy from an online source, let us know & transfer can be made easily for you.
We appreciate your support of our veteran owned shop!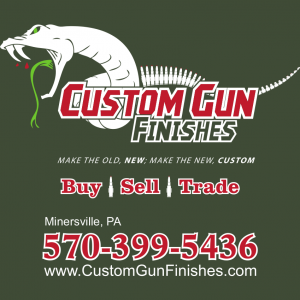 One more notice.  The Just 4 Vets (J4V) squirrel & turkey challenge is October 27th. Details in flyer – all invited to participate in hunt or attend to raise funds for Hunts for Healing.  List of prizes and donations continue to come in:
1.  Unique pretzels- pretzel basket
2. Deiffenbach potato chips- 400 bags of chip.
3. Dunham's sports- clothing & crossbow equipment.
4. Harrisburg Senators-4 box seat tickets.
5. S&K outfitters – custom made turkey call.
6. Top Calls- 2 custom made turkey calls.
7. Barry Transport-$100.00
8. KL Harring-$250.00
9. Butch & Ann Ney- Ruger Predator 22-250
10. Custom Gun Finishes- Ruger 10/22, Cleaning Kits, Gear
11. Pine Grove Guns & Ammo- Gun
12. Philadelphia Flyers- Autographed picture
13. Tremont Masonic Lodge-$250.00
14. Beth Barry- Wine Basket
15. GinGich Insurance- Booze Basket
16. Tony's Meats- the tickets for $350 meat dwg, hotdogs
17.  Berger's Market- the hotdog buns
18. Roedersville Gun Club-$500.00
19.  Kinsey's Outdoors- Hats and knives
20. Pine Grove Diner- 2-$25.00 gift cards.
21. Chuck Koch-Bird Hunt
22. Steve &Doris Frantz- Doe hunt& Fish and Steak dinner.
23. BG's Market-$25.00 gift card
24. Mr. & Mrs. Ron Shirk, Lebanon – Savage Rascal 22 lr; Savage 22 WMR; Guns & shirts and Hats.
25. Randazzo's pizza – gift card
26. Steve Frantz Construction-$50.00
27. George& Linda Gundrum-$100.00
28. Bill Arnold-$50.00
29. Uncle Bob & Dawn – The bean soup
30. Janet Ney- The new scale
31. Werner's – the electric for the sign.
32. BarTush Sign's- The sign truck
33. Emily Hindmen- Hunters Basket
34.  Mr. & Mrs. Richard Dando – concession stand condiments