Be Prepared – Custom Gun Finishes Open All Weekend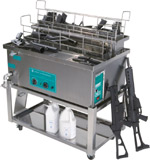 Custom Gun Finishes reminds all those hunters to consider ultrasonic cleaning on their rifles after hunting season.  Protect your firearm investment.
This weekend we have plenty of new firearm inventory for you.  
Diamondback DB15 .223/5.56
Beretta .22 Neos
Glock 26, Glock 42, Glock 27
LC9s with Green Viridian Laser
Heritage 22 lr/22wmr 9 shot revolver
IWI 9 mm & 40 cal pistols
Taurus 85 .38 sp ($25 manufacturer's rebate)
Para 1911
Browning Black Label 380
Citadel .45 ACP (great carry item)
Popular Savage Axis, Axis II, Trophy Hunter….$50 or $75 rebate depending on model
Used:
Ruger SR45, 45 ACP
S&W 60-3 Chief's special .38 SS snub
Ruger Security Six .357 Mag SS 4″
Astra .357 mag 3″
Ruger Super RedHawk .44 mag
Ruger .357 Mag 6″
and many, many more
Also, due to requests, added to our inventory are Case, Timber Wolf, Kreiger, Glock, and other popular full size & pocket knives.  Survival food/supplies and those perfect miscellaneous stocking stuffers or specialty gift.
In the week in ammo:  CCI Standard 22LR, A/E Automatch 22LR, 22 WMR, Fiocchi 9 mm, A/E 9 mm, .223/5.56 both steel and FMJ 55 gr as well as some 62 gr greentip, .357 mag, 12 ga & 20 ga cases and our normal stock.
Opened a new distributor account with access to some cool tactical items so watch for future deals on shotgun cases, knives and the like.  Also, have my dibs on conversion kits for Glock 17/22 for the Armscor 22 TCM….can't wait for the backorder release.
Come on in, open all weekend long…check out hours on Contact page of web.  It has been very busy over the past two weeks and look forward to serving you for whatever your needs and wants may be.
 Keep in mind, anything wanted for Christmas should be ordered this weekend.  Our distributors are behind about 5-7 days on shipping due to the high gun sale demands kicked off by combination of events.  If you haven't paid attention….you should be and you should be paying close attention.
Even if not ordering through us but ordering online and shipping in for transfers….do it now.  We only charge $20 for incoming transfers and FFL is on file with most major online retailers.  If you buy from a place that we do not have it on file with, just email sales@customgunfinishes.com and it'll be taken care of  ASAP.